Empire of Advertising – opinions and description of the service
Empire Advertising is one of the earning sites of Arial Media company, which is owned by Plem. Earning in it does not require any own contribution, although we can upgrade our account to VIP status to increase earnings. All persons who are at least 13 years old can join the program. What is worth knowing about the service and how to earn money on it?
Registration in the Ad Empire
Of course, before you can start earning at the Empire of Ads you need to create an account. The whole process is very simple, because you just need to click on the button "register", enter your email address, tick the required consents and go "next". Now we can only wait for a message from the service in which we find a link that we have to click to confirm the address. If it doesn't come within 15 minutes it's worth checking SPAM folder or contacting administration. After setting up the account we can already move on to earning.
How to make money with Empire Advertising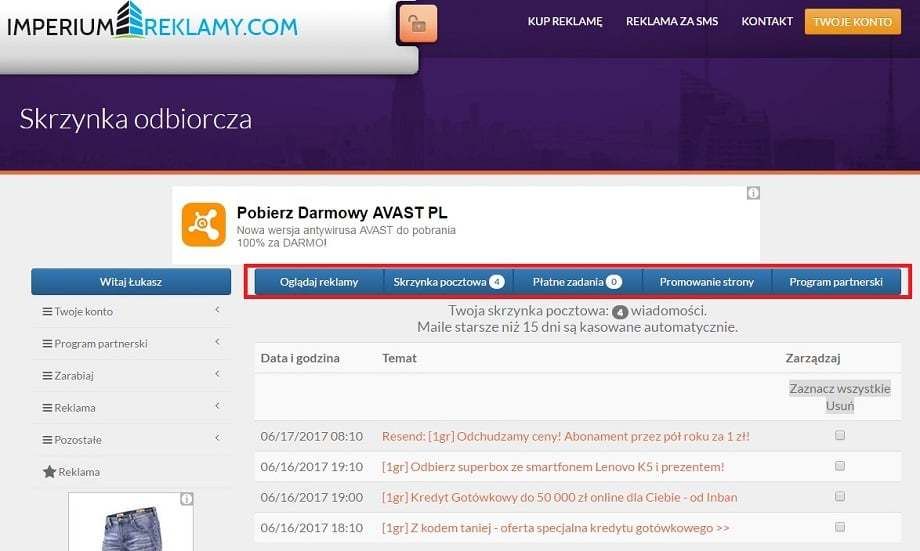 Earning opportunities in the Ad Empire can be found on the top bar (marked on the screenshot):
Watch ads – banners to click on in exchange for remuneration,
Mailbox – paid messages that come to your email or inbox (or both at the same time, because it's a matter of setting options),
Paid tasks – various tasks to perform, – promoting a special link in other services that allow it. For 1 entry you get 1 credit (it doesn't matter whether the entry is unique or not. The exchange rate in this case is: 1000 credits = 1 zloty),
Affiliate program – Recommending the program to other users. Empire advertising has 2 levels of referrals, of which the percentage reward is 15% and 10% respectively.
Referral program
Two levels of referrals (15% and 10%) are quite a nice addition to the money earned, but unfortunately, in contrast to most other services, to receive earnings from the referrals we have to show activity at the level minimum 30%. However, there are not so many ads that this requirement is difficult to meet. We invite others, of course, through a special reflink.
Rewarded account
At Empire Ads we have 3 types of VIP accounts (bookmark "Your account" -> "upgrade account"). Common features of each of them are:
Free referrals – people registering without a link are automatically assigned to VIP members.
Higher remuneration from referrals by 2% for each level.
No minimum for withdrawal.
Differences in individual VIP accounts and the price (it differs depending on the period for which it is bought and the form of payment):
Minimum (80 zł / year)

500 guaranteed entries worth 0.5 gr (once a month).

500 guaranteed entries worth 0.5 gr (once a month).
mailing to 1000 active users worth 1 gr (once a month).

to all active users of the value of 1 gr (once a month).
mailing to everyone of the value of 2 gr (one time).
1000 guaranteed entries worth 0.5 gr (once a month).

All of the above advertisements that you receive once a month can be used immediately. We do not have to wait with each payment until the next month, because we get the whole pool at once.