ReaktorOpinii.pl – opinions and description of the panel
Reaktor Opinii is another survey panel which allows you to earn money on filling out surveys. It was created by Pollster Research Institute and is active since January 2014. Registration is completely free, you just need to be over 13 years old and live in Poland to create an account. How to earn in the panel and increase your earnings from filling out surveys?
Registration in the panel
Creating an account in the panel is very easy. At the beginning we go to registration form and enter your e-mail address. In the next window enter your date of birth, password, tick the necessary consents and click "Go on". From now on, our account is active, but we still have to confirm our e-mail address (by clicking on the link in the message that will come to your mail) and fill in the start survey. Without it you will not receive invitations to subsequent surveys. It is worth noting that the registration is also open to young people over the age of 13, so it can also be an interesting job for minors.
Reaktor Opinii – how to earn?
We receive the first remuneration (20 points to be precise) just for registering and completing the first, short recruitment survey. Further earning in the panel is of course based on filling out surveys, and how much you will earn for each of them depends on their length and complexity. Surveys to be filled in can be seen after logging in to the panel, under the account balance, next to the information about "available surveys". All you have to do is click on "Go to survey" next to the survey you want to fill out.

For each survey you will find information about the number of points you can receive for completing it. One survey usually takes from a few to several minutes. It is important to fill in the recruitment questionnaire, as specific surveys may be addressed to a specific group, e.g. residents of a given province or women only. The number of surveys available depends on the clients and current needs. What's interesting, even if you don't qualify for a particular survey you still get 2 points.
Opinion Reactor notifications about surveys available for completion are sent to your email box, but you will also find them after logging in to the panel. Of course we don't have to fill all of them if we don't feel like it.
Referral program
In addition to the standard survey filling, we can also invite our friends to the panel using a special reflink. For one invited friend we get 10 points, which is the equivalent of 1 zloty. However, in order to get paid the user has to fill in at least one survey and be active for at least one month. Admittedly it is not a big reward, especially in comparison to other panels, but it allows you to earn additional points.
Payout from ReaktorOpinii.en
Currently the only way to pay out the money earned in the Opinion Rector is through a bank account. We can order the payout after collecting at least 500 points on the balance, which in conversion gives 50 PLN (1 point = 10 gr). The waiting time for payment from the panel is a maximum of 30 days from the date of its order. What is interesting, in order to complete the payment we need to answer 3 simple questions within a minute, but everyone should know the answer to them. Mostly basic information such as the capital of Poland or the name of the current president. This is probably the only panel where the payout looks like this. In case of incorrect answers, only after 7 days we will be able to fill out the withdrawal form again. Of course, the points are not lost in this situation.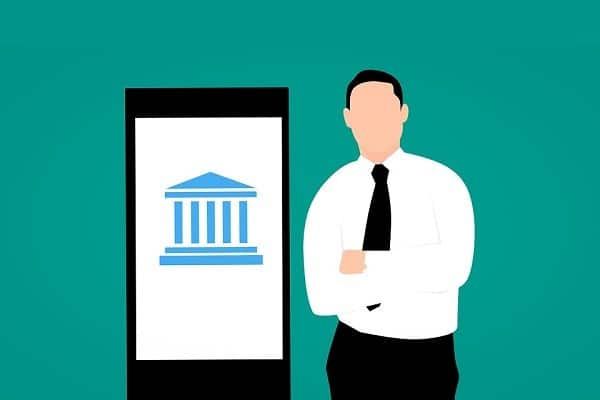 Of course, we can quickly set up an account online if we do not have one or simply want to change it, as banks often offer money for setting up accounts. In this way we can earn on the change an additional few hundred PLN. It is worth noting that banks in their offer also have accounts for young people, so minors also have no problems with withdrawals from such survey panels.
Proof of payment
Below the proof of receiving over 60 PLN from the panel directly to your bank account.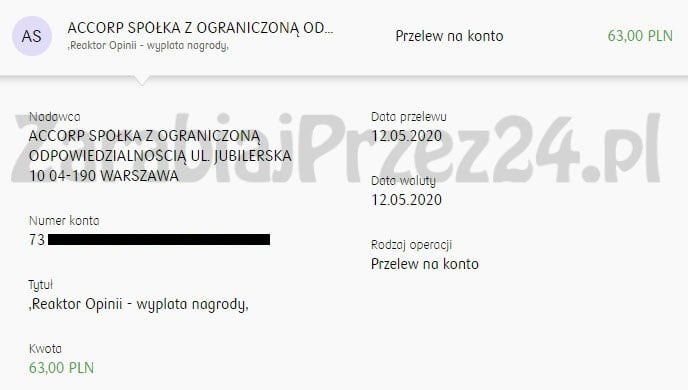 How to earn more money from filling out surveys
Earning money by filling out paid surveys via the Internet is certainly one of the easiest and most popular ways of getting additional cash online. Of course ReaktorOpinii is not the only panel which pays for filling out surveys. It's worth registering also in others, because unfortunately earnings from one service are not high, and this is due to a very limited number of available surveys.
How to delete an account in ReaktorOpinii.pl
We can resign from participation in Reaktor Opinii survey panel at any time – it is enough that we delete the account. For this we have to go to "Your account", then "Your data" and click on the red button "Delete account". It is worth thinking about this decision beforehand as deleting an account also means complete loss of any earnings (if their value does not exceed 500 points) which can be found on the internal balance in the panel. What is more, deleting your account will prevent you from registering with the panel again.
Opinions on ReaktorOpinii panel
ReaktorOpinii as a panel has been operating for a long time and still pays out smoothly. There is a definite advantage among internet users positive feedback about it, although some people complain about low number of surveys sent. Especially if we compare it with the leading survey panels. One disadvantage that is easy to notice is quite slow performance of the website and some of the tabs. This does not affect the functionality of the panel, so it is worth registering and evaluating for yourself.
Do you have any experience with the panel? Share your opinion in the comments.