Yougov – Opinions and description of the survey panel
Yougov This is an international survey panel, which is also available in the Polish language version. We get here points for each completed survey, and these in turn can be exchanged for gift cards to Allegro. Unfortunately, in our country it is the only way to exchange points, but Allegro is such a popular sales platform that certainly everyone will use such a card. Registration is of course fully free, and the account can be created by people who are at least 16 years old. What is worth knowing about the panel and how to earn in it?
Registration in the panel
Creating an account in the panel is very efficient and is basically limited to a few basic questions. After going to the page and clicking on the " start button ", we confirm the language version, provide the year of birth, gender, postal code and finally e-mail address. Then we only have to paste the code, which we will receive to the given postal address and the account is active. It is worth paying attention to the relatively low age required for registration, so it can also be an interesting job for minors. Interestingly, we do not have to create any password here, because login is done using codes sent to the e-mail address provided.
It is also noteworthy that we receive 100 points for registration itself.
Earning at Yougov
The YouGov panel is characterized by simplicity and transparency, so navigating it should not cause the slightest problems. Information on new surveys is visible just after logging in, so it's hard to overlook it. We will receive the first one immediately after registration. The survey is very short and concerns basic information, e.g. How often do we want to receive surveys, how do we know about Yougov etc.
It is worth logging in to the panel regularly to check if we have new surveys to be completed, because not all of them can go to the mailbox.
Yougov partner program
Like many survey panels, Yougov also has its own affiliate program, which can increase the speed of winning prizes. For each friend whom we will invite with a reflinek we will receive 200 points at a time if he completes 6 surveys. The point salary seems decent, although the requirement itself to receive it is already quite high. In other panels it looks usually much better, although the salary is often lower. Of course, if we have active friends, this is not a problem, because it will only postpone the granting of points. Unfortunately, we also have no preview of invited friends or the number of surveys they have already filled.
About surveys in Yougov
Yougov surveys are very short, so they should be completed no more than 7 minutes (information from the official website). We will usually find in such a survey from 20 to 30 relatively short questions, Although they may hit slightly longer and more complex. The longer ones can last up to 20 minutes. It is also worth infringing that in the invitations to the surveys we will not find information about the time needed to complete it and remuneration. It is a matter that definitely distinguishes Yougov from other survey panels. This is because before we enter a given survey it may be out of date, and the panel in such a situation will always find another for us. Of course, this is also information from the official website, but whether " always " This time will show.
Yougov mobile application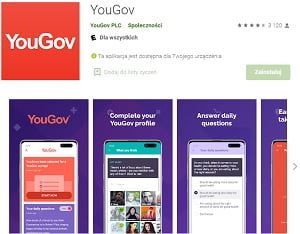 The YouGov panel also has an official mobile application, thanks to which we can complete surveys on your smartphone. It is available for Android and iOS phones, so we will find it both in Google Play and the App Store. This is a great solution for people who prefer completing surveys on the phone instead of on the computer. Of course, when deciding to make money using the phone, it is worth paying attention to other applications that allow you to earn in this way. Of course, not only for completing surveys.
Payment from YouGov
Unfortunately, Yougov is a panel that does not allow direct payments to a bank account, or even to internet wallets. For many people it will certainly be a big minus, although gift cards to Allegro are also an interesting solution. In fact, everyone knows the platform and it is hard to find a person who would not shop there. We will find practically everything there, so with such a card it is relatively easy to make good use. Alternatively, we can always sell it to someone. We can choose cards with the value:
100 zlotys – for 2,500 points,
250 zlotys – for 5000 points.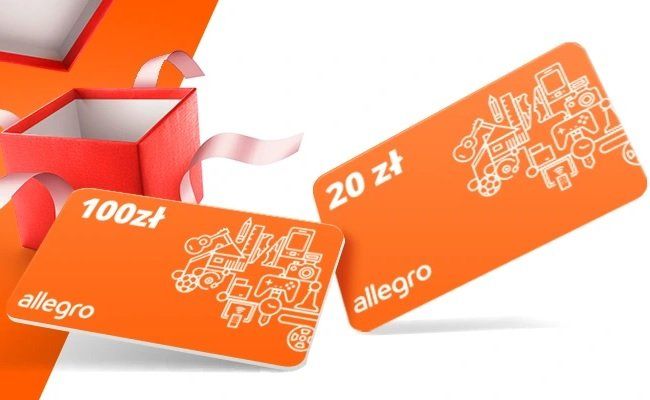 As you can see, the second option is definitely better, but unfortunately collecting such a number of points may take a while. It is also worth remembering that the time of card waiting can be up to 4 weeks from the moment of replacement of points, although sometimes it is a bit faster.
Proof of payment
Gift card code comes to the email address provided during registration, and below proof of receiving such code (after 3 weeks).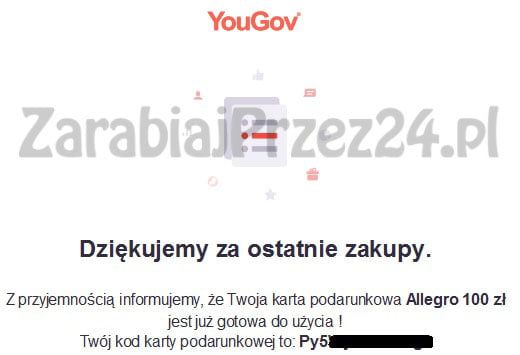 How to delete your account on YouGov
Of course, we can delete an account at any time if we do not like the panel or simply get bored after a while. For this purpose, we must contact YouGov, and the administration will delete the account and stop contact within 7 days of receiving the notification of the desire to resign. However, it is worth considering such a decision earlier, because it involves the loss of all collected points, and the reactivation of such an account will not be possible.
If we are not quite sure, we can use the option " cancel the subscription ". In this way we will keep the accumulated points, but we will stop receiving messages from YouGov until re -activation. This can be done by entering " my account ", and then in " personal data ". There, at the very bottom we will find the appropriate button for canceling the subscription.
How to earn more on surveys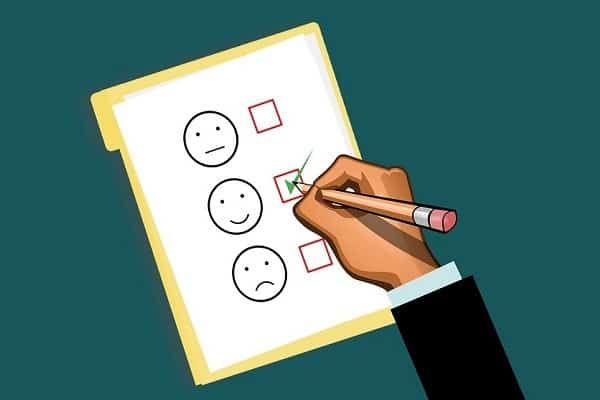 Earning on completing paid surveys is one of the easier ways to get extra cash on the Internet. Apart from YouGov, there are many other survey panels in which you should register, for example. YSEnse. When deciding to earn on surveys. The second thing is that Yougov, unfortunately, does not allow you to exchange points for real money, and most of the other survey panels give such a possibility.
Reviews about YouGov
The Yougov panel has on the internet good reviews And it looks very interesting in itself, although there is definitely a lack of the possibility of exchanging the points for money for money. However, on the other hand, if they are already gift cards, it is very good that it is to Allegro. It is such a popular sales platform that in principle, every card will use such a card. The situation is different when we only have cards for stores to choose from, which we do not use on a daily basis. It is definitely worth registering and giving the panel a chance.
You have any experience with the panel? Share the opinion in the commentary.